I am just back from a little late-winter break in La Réunion, where I had the chance to enjoy some of my favorite
yoga practices that re-unite yogis with one another: partner yoga, Thai massage, and AcroYoga!
AcroYoga on the beach in La Réunion
In partner yoga, AcroYoga, and thai massage, we
work together
to balance, stretch, and even fly! The support of another person can help us to find the sensations of equilibrium and "opposing forces" in asana, and can also be a
fun way to connect with a partner, friend, or family member
.
navasana - boat pose - partner yoga style
Almost all of the yoga poses or asanas can be practiced with a partner - another person's weight can encourage us to
stretch more, release more, find support in balancing poses, and also practice trust and communication
. In partner yoga, both partners are actively working together and every pose is a practice of both giving and receiving.
lunar AcroYoga
AcroYoga
combines acrobatics and yoga - and takes partner yoga to the next level of
balance, trust, and the relationship between holding on and letting go.
AcroYoga is generally divided into two styles: solar (acrobatic) - and lunar (therapeutic). In the lunar style, the "flyer" (person in the air) is passive and essentially receiving an inverted massage and assisted stretching from the "base" (person on the floor ).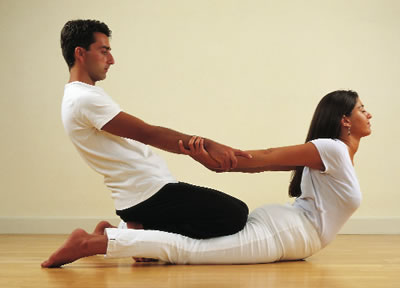 cobra - Thai massage style
In Thai massage (sometimes called Thai yoga massage), the receiver of the massage is guided through a series of passive yoga postures and assisted stretches to open the energetic channels of the body.
A Thai massage is like having a yoga session done to you!
When you are feeling tired, in need of support or connection, or just in the mood to play and let go, these partner practices can be a great alternative to your personal yoga practice. It can also be a fun way for yogis to share their practice with loved ones, friends, and kids!
I offer private partner yoga sessions for individuals, couples, groups and families
; an individual session I might combine partner yoga, assisted Thai-massage-style stretching and some AcroYoga for release and relaxation, and in a partner, group, or family session, I will guide you through a sequence of partner yoga poses that you can enjoy together.
Please contact me for rates and availability!
April 18-20, Yohann Guichard will lead
a weekend of AcroYoga workshops in Marseille (click here for info)
I will be attending a training in Thai massage this spring, but in the meantime, please contact Sylvie Neuhuys at
neuhuys.sylvie@gmail.com
for
Thai massage in St. Rémy and the Alpilles
, and if you find yourself in La Réunion, look up Massage-Bien-Être Réunion for a super-fabulous Thai massage in and around St. Leu.