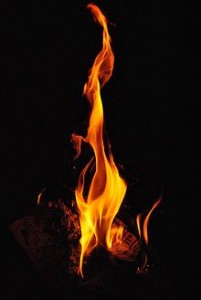 Here we are in the blazing heat of summer, halfway between the fireworks of American Independence Day and Bastille Day, and news of fires burning up my home state of Colorado filtering though to the news in France :( I've got fire on my mind.
In my classes, we have been working with the heat-producing standing warrior postures in my basic classes, and challenging arm balances with my advanced class.
Heat is a key element in the asana yoga practice, and especially the vinyasa style, in which we build inner heat by challenging our mind and bodies through standing and balancing postures and continuous breath-guided movement.
This intense energy, or
tapas
, is not the same kind of heat involved in "Bikram" or "hot yoga", in which the room is heated to 105F (40C) in order to indice a sweaty and detoxifying experience.
Tapas
is
heat from within
;
BKS Iyengar
describes it as "a burning effort which involves purification, self-discipline, and austerity." It is both the the willpower to drag ourselves to a yoga class when it is hot outside and we might rather be napping, and the dedication to stay with those physically challenging postures and sequences when your legs start shaking and you would like to just stop and collapse in a heap.
Simon Park in an arm balance (eka hasta mayurasana)
firing it up to fly
While tapping into
tapas
will probably make you break out in a sweat, it is also the element that helps you build stamina, develop courage, and become stronger on an off the mat.
Dharma Mittra
calls tapas "angry determination"... but reminds us that it is a "positive attitude" that challenges you to go beyond the mind and your own personal resistance and do things that may not necessarily be easy or pleasant. Though the idea of cultivating such a fierce attitude through a practice often thought to be soft and easy may seem strange to you,
the result of cultivating tapas is inner and outer strength and the capacity to deal with challenges gracefully, to flow through life
. The yogi becomes, says Swami Satchitananda, "like a surfer who knows how to balance on his board...he welcomes even a big rolling wave because he knows how to enjoy it without getting caught in it."
Ahhhhhhhhhhh.