Parmi les idées recues sur le yoga, il y a la suivante : c'est un truc de filles (voire de grand-mères). On imagine sans doute alors des cours de yoga où l'on est couché par terre, en train de respirer et se relaxer, ou à la limite, de se tordre comme un bretzel avec la cheville derrière la tête comme une danseuse classique. Cette image de yoga comme activité douce peut détourner des hommes de la pratique du yoga ; ils l'imaginent trop "zen" et pas assez "physique". Bref, dans un cours de yoga "il ne se passerait rien".
Pourtant, le male courageux qui se trouve dans un cours de yoga termine souvent par se dire, "Je ne savais pas que c'était si physique!" Les yoga asanas (postures) renforce, étirent, et équilibrent les muscles du corps, donnant un bon contre-effet aux activités sportives comme le cyclisme, le footing, ou le weight-training. Ils renforcent aussi les muscles profonds etstabilisateurs du corps, rendant ceux-ci plus résistants aux blessures, tendinites, et torsions. La pratique du yoga tonique et dynamique aide aussi à developer une conscience du corps, renforce le système cardio-vasculaire et la concentration qui peuvent non seulement servir à augmenter la performance sportive, mais aussi le bien-être au quotidien.
Dharma Mittra à 70 ans
Among the many preconceived notions about yoga out there is the idea that yoga is a "girl thing." The image of the navel gazing or hyper-flexible yogi with one leg behind her head or the perceived slow pace of yoga postures and touchy-feely "spiritual" aspect can be intimidating or difficult to relate to for the modern man, who would rather be working out, pushing the limits, "doing something." But inevitably, the dude who wanders into a yoga class often leaves saying "I didn't know it was so physical!"
A dynamic yoga practice is every bit as challenging - physically and mentally - as any sport or workout. Yoga asanas can make the body strong and supple, and can be a great complement - or antidote - to the kinds of activities many dudes do such as lifting weights, biking, running, football... Yoga can stretch tight muscles, balance muscular imbalances, reinforce the deep stabilizing muscles of the body, helping to prevent injury and make the body work more efficiently. Today many professional athletes include yoga as part of their training repertoire for these reasons.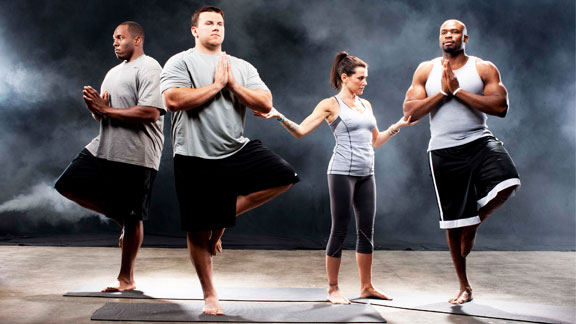 Members of the New York Giants football team in vrksasana - tree pose
Yoga can also help to build focus, concentration, and a better mind-body connection, making men not only more efficient and injury-resistant in their athletic activities, but perhaps lowering levels of stress and tension and increasing well-being in everyday life.
Still have your doubts? Check out this video of super-yogi Phillip Askew.